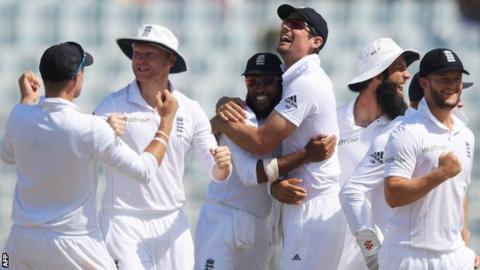 First Test, Chittagong (day five)
England 293 & 240: Stokes 85, Shakib 5-85
Bangladesh 248 & 263: Sabbir 64*, Batty 3-65
England won by 22 runs
Scorecard
England rescued an unlikely 22-run victory on the final morning of an intriguing first Test in Chittagong.
Bangladesh began the day needing 33 to beat England for the first time in a Test match, with two wickets standing.
They calmly added 10 runs before Taijul Islam was given out lbw after a review.
In the same over, Ben Stokes removed last man Shafiul Islam, who was given out lbw and failed to overturn it on review as Bangladesh were dismissed for 263, with Sabbir Rahman unbeaten on 64.
Bangladesh had won only seven of their previous 93 Tests and had beaten only Zimbabwe and an under-strength West Indies.
Reprieved by review
In a match featuring a record 26 decisions reviewed, it was perhaps inevitable that the denouement came with trial by television.
England's first wicket was something of an optimistic appeal, having just had their reviews topped up to two after the 80-over mark in the innings as they were slipping increasingly closer to defeat.
Taijul shuffled across his stumps trying to turn the ball to leg and the ball flew off the pad for valuable leg byes, but England gambled on a review, which suggested the ball would have just straightened enough to hit the top of leg stump.
The match ended two balls later as last man Shafiul was hit on the pad outside the line of off stump, which would ordinarily be not out if the umpires were satisfied the batsman had made an attempt to play the ball.
But umpire Kumar Dharmasena deemed that no shot was played, though others might have argued it was more likely to be the limited technique of a number 11 batsman being beaten for pace by a reverse-swinging delivery approaching 90mph.
Although Shafiul called for the 26th and final review of the Test, third umpire S Ravi backed his on-field colleague and the decision stood.
More to follow.